Impact report: Insights from our grantees working on AI and Society
European AI & Society Fund grantees work to shape Artificial Intelligence to better serve people and society. This report provides insights into the strategic capacities, impact, challenges and learnings that our grantee partners have shared in their reporting in April 2023. It includes organisations who began their work in 2021 after being awarded grants through our first Open Call for proposals.
Download the full report here.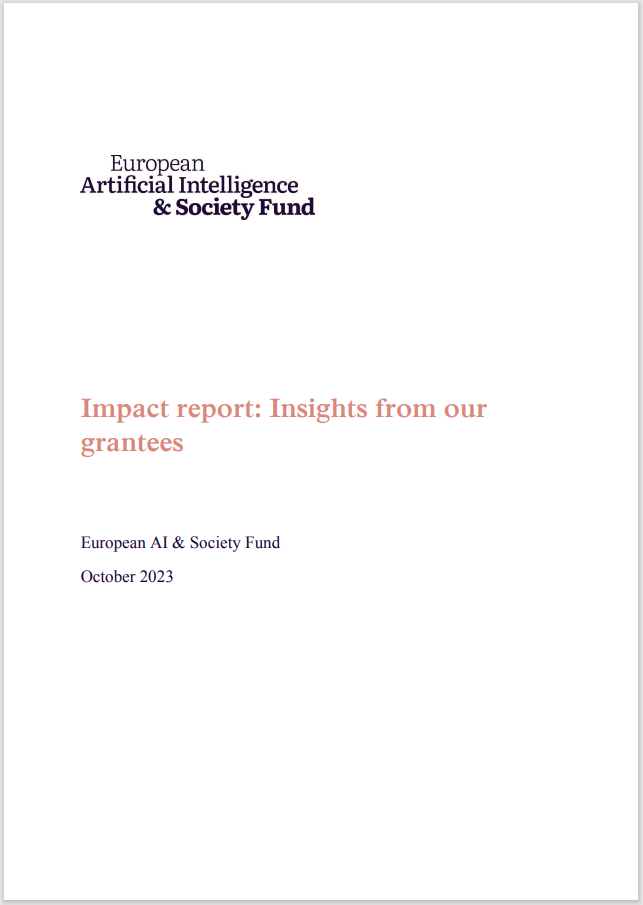 Key findings
Grantees have all achieved significant increase in capacity thanks to the funding across policy, technical and communications skills.
Technology expert organisations have been able to sustain policy and advocacy work through complex legislative processes in the EU and national levels as well as engage in new forums such as the Council or Europe.
Social justice expert organisations have succeeded in bringing the views of affected communities such as migrants, sex workers and racialised communities into policymaking. They have effectively addressed the intersection of AI with issues such as health.
Close collaboration among grantees scored tangible victories in the AI Act with the European Parliament adopting civil society positions on biometric identification, emotion recognition, predictive policing and human rights assessments among other issues.
Grantees have been able to engage across a number of other files including the Digital Services Act, the AI Liability Directive, the European Health Data Space, the Platform Workers Directive, the EU Employers' Sanctions Directive.
Funding has had a multiplier effect as grantees engage on AI issues within their wider networks and establish clusters across different thematic fields.
Grantees require sustained funding over time in order to follow changing legislative priorities and for their expertise and credibility in the field to grow and be recognised by decisionmakers.
Despite their increased capacity, challenges remain to engage consistently on policy work across a large number of files and in the face of intense and well-resourced
industry lobbying.
Grantees remain concerned about funding levels over the medium to longer term.